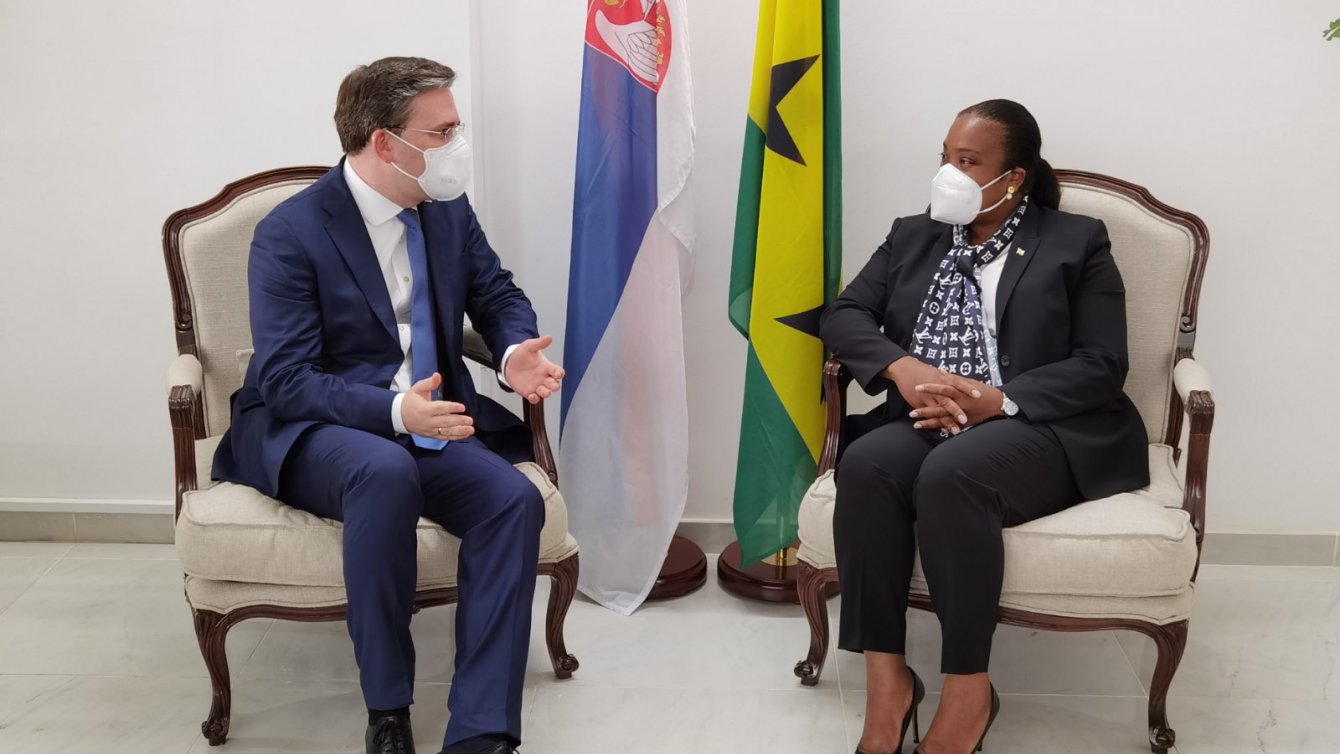 The Minister of Foreign Affairs of Serbia Nikola Selaković met today, as part of his several-day official visit to the countries of Central Africa, with the Minister of Foreign Affairs, Cooperation and Communities of Sao Tome and Principe Edite Tenjua.
At the press conference held after the meeting, Minister Selaković stated that the visit was of historical significance, since it was the first time a Serbian Foreign Minister was visiting Sao Tome and Principe, in the year when our two countries were celebrating the 45th anniversary of the establishment of diplomatic relationships.
"Our two friendly countries have very good relations, without any open issues. Sao Tome and Principe is our partner country and this partnership and friendship are reflected in the support of your country on issues of the highest importance for Serbia. It is the support that your country provides to the territorial integrity and sovereignty of Serbia in connection with our southern province of Kosovo and Metohija," Minister Selaković said. According to him, the agreements signed today - Memorandum of Understanding between the two Foreign Ministries on political consultations and Memorandum on cooperation between the Ministries of Agriculture - will encourage cooperation between the two countries in the forthcoming years.
As noted by Minister Selaković, today's visit was a valuable opportunity for meaningful talks and for defining the fields in which deepening of bilateral cooperation would be possible. "We are talking about how to help our friends, how many scholarships we can provide to your students for education in Serbia and how to help you in mitigating the consequences of the floods that hit the country this year. We are also discussing cooperation at the multilateral level within various international organisations," he said. Minister Selaković expressed special gratitude to Minister Tenjua for accepting the invitation and participating in the meeting of the Non-Aligned Movement held in Belgrade last year. Minister Tenjua emphasised the importance of today's meeting in light of the challenges the two countries are facing and the need for solidarity in resolving such challenges. She said that the two countries had a wholehearted desire and intention to strengthen the friendship and raise it to a higher level.
"The friendship between our two peoples has its roots in the past, and they are strong and deep enough to represent good basis for future cooperation," Minister Tenjua said. She emphasised the importance of the agreements signed today, noting that there was a high agreement between the two countries on many international topics. "I am convinced that we will continue to discover good ways for our peoples to benefit from the friendship between our two countries," said Minister Tenjua.
***