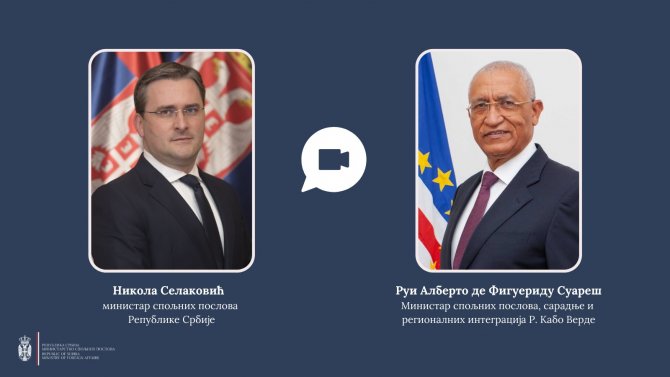 The Minister of Foreign Affairs of Serbia, Nikola Selaković, spoke by phone today with Rui Alberto de Figueiredo Soares, the Minister of Foreign Affairs, Cooperation and Regional Integration of the Republic of Cape Verde.
Selaković assessed that bilateral relations are good and friendly and said that Serbia is determined to strengthen overall ties with that country.
The minister expressed satisfaction that our relations are adorned with mutual understanding and trust, noting that it is necessary to intensify political dialogue through the exchange of high-level visits. He added that Serbia is ready to conclude several bilateral agreements that would greatly facilitate cooperation.
The head of Serbian diplomacy especially thanked Cape Verde's principled position regarding the non-recognition of the unilaterally declared independence of the so-called "Kosovo", expressing expectation that this position will not change, and that we will continue to support and help each other in accordance with national priorities.
According to Minister Selaković, it is necessary to work on improving economic cooperation, and Serbia wants to hear the specific needs and priorities of Cape Verde, and is ready to share our knowledge and experience in areas such as health, agriculture and IT.
Selaković singled out the potentials of cooperation in the field of education, emphasizing that we have increased the number of scholarships within the "World in Serbia" program and that we want to provide an opportunity for a larger number of students from friendly countries to study in our country.
The ministers discussed the fight against the corona virus, and Selaković said that Serbia was ready to donate a certain amount of vaccines, in accordance with its capabilities.
***